PhD candidate Anita Acai and postdoctoral fellow Cherie Woolmer are among the first to receive fellowships from International Society for the Scholarship of Teaching and Learning (ISSOTL)—and McMaster is the only institution to be recognized with two representatives in the 2019 inaugural cohort.
This year a total of nine fellows represented institutions from Canada, United States, United Kingdom, China, and Singapore.
"The fellowship seeks to recognize leaders who have made exemplary contributions to the scholarship of teaching and learning (SoTL) at the local, regional, national and/or international levels," says Acai, who works in the Department of Psychology, Neuroscience and Behaviour and the Office of Education Science in the Department of Surgery. "However, the program is more than just a recognition. It is a community of leaders committed to scholarship, mentorship, leadership and engagement in SoTL in its many forms."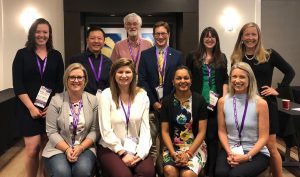 The ISSOTL Fellows program recognizes significant contributions to the scholarship of teaching and learning and the potential for recipients to influence the field in the coming years. Launched in 2019, the program rests on a set of core values which include:
community engagement and global citizenship;
collaboration as a fundamental process in building capacities for new ways of thinking, doing and learning; and
holistic meaningful, intentional approaches to higher education.
Woolmer, who is a postdoctoral fellow at the MacPherson Institute, believes the recognition helps elevate the importance of SoTL work on campus.
"We are the only institution to have two ISSOTL fellows," said Woolmer. "I think this recognition positions McMaster's commitment to SoTL and excellence in teaching and learning on the world stage."
Currently, Acai contributes to panels and workshops on teaching and learning in higher education and has completed various peer-reviewed publications and presentations. She is also worked with the Society for Teaching and Learning in Higher Education (STLHE) as an adjudicator and former coordination team member of the 3M National Student Fellowship, of which she is also an alumna.
Woolmer co-leads the Student Partners Program with Nancy Fenton, associate director of research. The program was recognized when McMaster won the 2018 Global Excellence in Teaching Award, and engages with more than 200 faculty, staff and students at McMaster every year. It is currently one of the largest programs of its kind globally.
True to the intent of the ISSOTL Fellows program, Acai and Woolmer have distinct ideas for how they would like to see the opportunity take shape in relation to their work.
Acai plans to join a community of practice that will continue to build capacity around SoTL. She hopes to expand her network to include diverse scholars from a range of countries and contexts to add unique perspectives and to advance teaching and learning in higher education.
Woolmer hopes to join and learn from an international network of Fellows, to build new networks at McMaster and across Ontario, and to advance the sector's thinking about the role and contributions of students in SoTL.
"There remains work to be done to further unite SoTL scholars within the institution," said Acai. "Nonetheless, having two ISSOTL fellows recognized from McMaster speaks to our strengths as a research-intensive university that values, and is a leader in, teaching and learning."